(Stavanger, September 7th, 2022) Today, Tampnet announced they have reached another significant milestone by signing an agreement with one of the oil majors in the region for further 4G/5G coverage build out. Throughout the coming months Tampnet will install an additional 3 base stations to produce a total of 7,000 square kilometres of brand-new offshore LTE coverage, providing a combined total of 35,000 square km for the southern North Sea this year alone.
Earlier this year, Tampnet completed the installation of a new 4G/5G base station on a keyplatform, 150 km off the coast of Norfolk, UK , adding another 6,500 square km of coverage to its existing 250,000 square km of North Sea 4G/5G coverage. This additional UK coverage will also overlap with the existing coverage on the Dutch sector. Tampnet continues to provide solutions contributing to better sustainability and towards net zero emissions.
A unique network connecting all offshore industries and people
Tampnet's offshore 4G/5G coverage is unique in the sense that the data is carried back to shore on a redundant subsea fibre optic network, providing the same data speeds, low-latency and reliability that people and businesses have become accustomed to onshore. The expanded coverage will benefit all offshore activity in the area; offshore wind construction, oil and gas activities, marine traffic and vessels, as well as individual mobile subscribers through roaming.
Tampnet CEO, Elie Hanna, comments: "We are witnessing a growth in demand from our key customers to continue expanding our offshore LTE coverage as it enables them to apply new technologies in their push towards safer operations, reduced emissions, and digitalisation of their offshore operations. With our robust fibre network carrying all of this data to shore, they often experience higher throughput and availability than they are used to from onshore. Building out this infrastructure not only benefits the traditional oil company customers, but also their contractors in the area, including mobile rigs and vessels. Offshore windfarms are another beneficiary of these networks. Activity is building in the industry and in this region. Connectivity is highly sought after in the construction phases of these developments and for ongoing condition monitoring programs.
Finally, the benefits spread further with offshore crews and mariners now able to use their own mobile devices to keep in touch with their loved ones while they are offshore, managingtheir personal business through convenient and affordable mobile roaming offers. This new coverage will also be an integral part and significant contribution towards the planned pan-European public safety network."
Tampnet's network is growing across the world
Tampnet has built extensive offshore networks both in the North Sea and Gulf of Mexico. Recently, they have expanded their Americas footprint further, building a small 4G/5G network off the coast of Newfoundland, Canada, as well as Trinidad & Tobago. The total coverage is now approaching 600,000 square kilometres, and the network serves the offshore industry, offshore wind, public services, aviation services and individual mobile subscribers.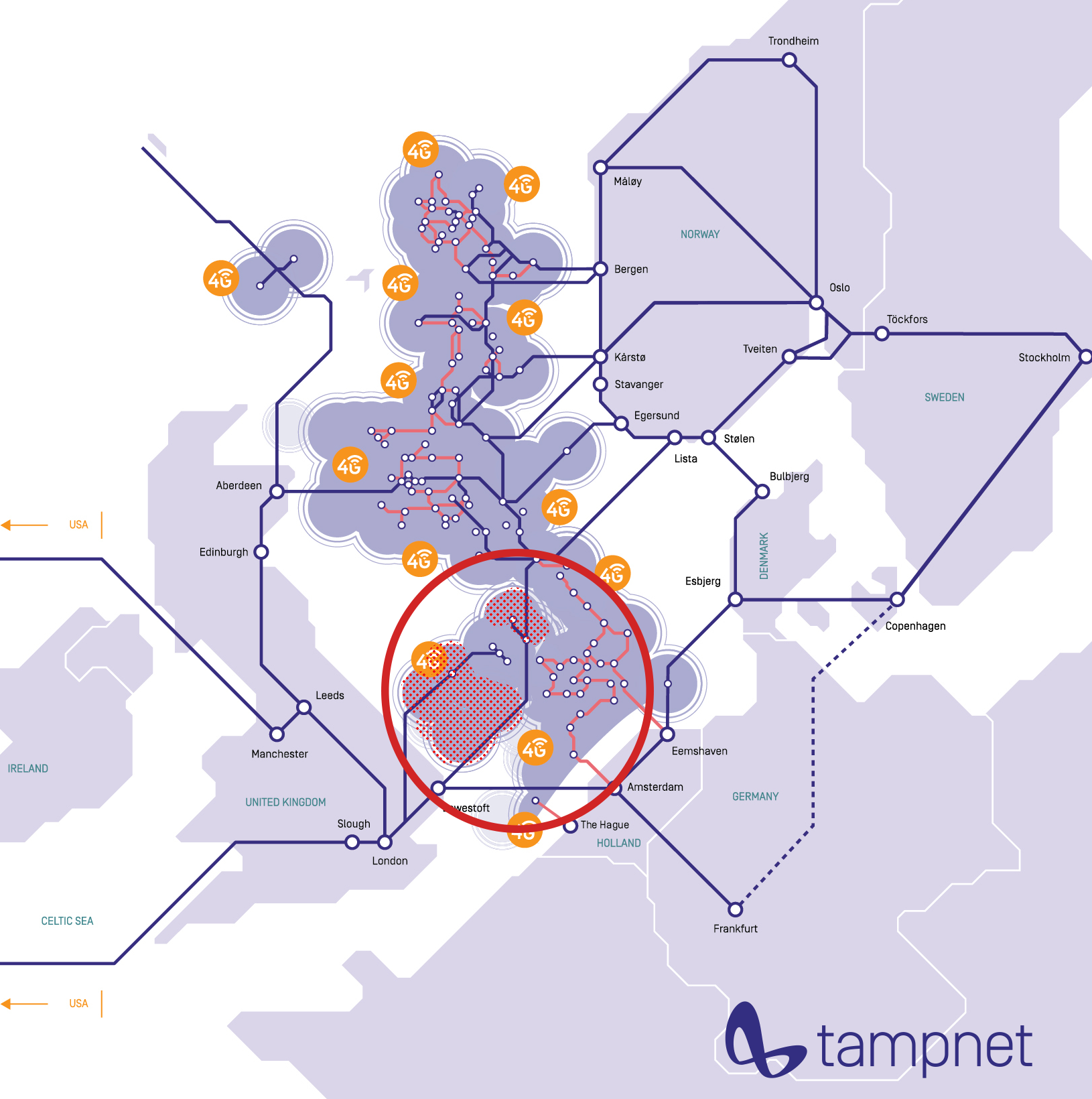 Fig 1: Tampnet's North Sea Network with new 4G/5G coverage areas in the southern North Sea.
About Tampnet:
Tampnet was founded in 2001 in Stavanger, Norway and operates the world's largest offshore high capacity communication network in the North Sea and the Gulf of Mexico, serving customers within Oil & Gas, Wind Energy, Maritime and Carrier sectors with first-class telecommunications. The company employs more than 100 people, is headquartered in Stavanger, Norway and has offices in the UK, the Netherlands, USA, Brazil, Trinidad and Tobago. Tampnet connects offshore installations to redundant and reliable terrestrial networks with high capacity and low latency (high speed).

To enable roaming and the digital transformation, Tampnet installs and operates offshore 4G/5G coverage networks on offshore oil & gas platforms, offshore windfarms, service and commercial vessels.
For further information please contact:
Per Atle Sørensen
Vice President & Head of North Sea Unit,
Tampnet AS
Mobile: +47 91643043
Email: pas@tampnet.com
Website: www.tampnet.com
Link to online press release: https://www.tampnet.com/press/tampnet-expands-4g5glte-southern-north-sea